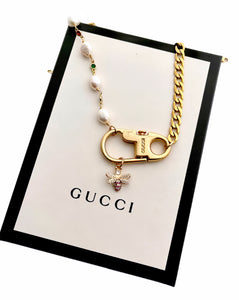 This amazing Vintage Piece was repurposed with 100% authentic Gucci  keychain clasp from a 1990's Gucci Keychain, 24k Gold Filled Mother of Pearl Clear Crystal & Stainless Steel chain.
Gucci Keychain  was authenticated!
Keychain Clasp measures 1" by 1.5" and has Gucci & Made in Italy engraved. Bee charm is 14k gold plated and measures 1/2".
Necklace is 18" long. Length can be customized by request. 
Vintage pieces may show light signs of wear due to aging as they are true vintage but overall  in good condition.
All of our  Vintage and Designer Finds are carefully sourced and authenticated!
*All designs are repurposed using previously owned and authenticated finds that are altered from their original state. All Luxe Finds are ethically sourced, legally purchased and authenticated.  DJCo has a Zero Tolerance Policy for the use of infringement or counterfeit items. DJCo does not claim any trademark rights. DJCo is not in any way affiliated with, endorsed by, authorized or connected with any company, or associated brands. Associated brands, logos and images are a registered trademark of their own respective owners.
**DJCo is not affiliated with Gucci. Gucci is a registered trademark of Gucci.
To better care for your piece avoid wearing in the shower or pool.  Stored in jewelry box.